Design Services
Your yard. Our expertise.
A free, personalized plan is just a few simple
steps away.
We make it easy to plan your watering system. Take a few measurements and share some details about your yard to receive a free, customized plan prepared just for you by one of our team experts.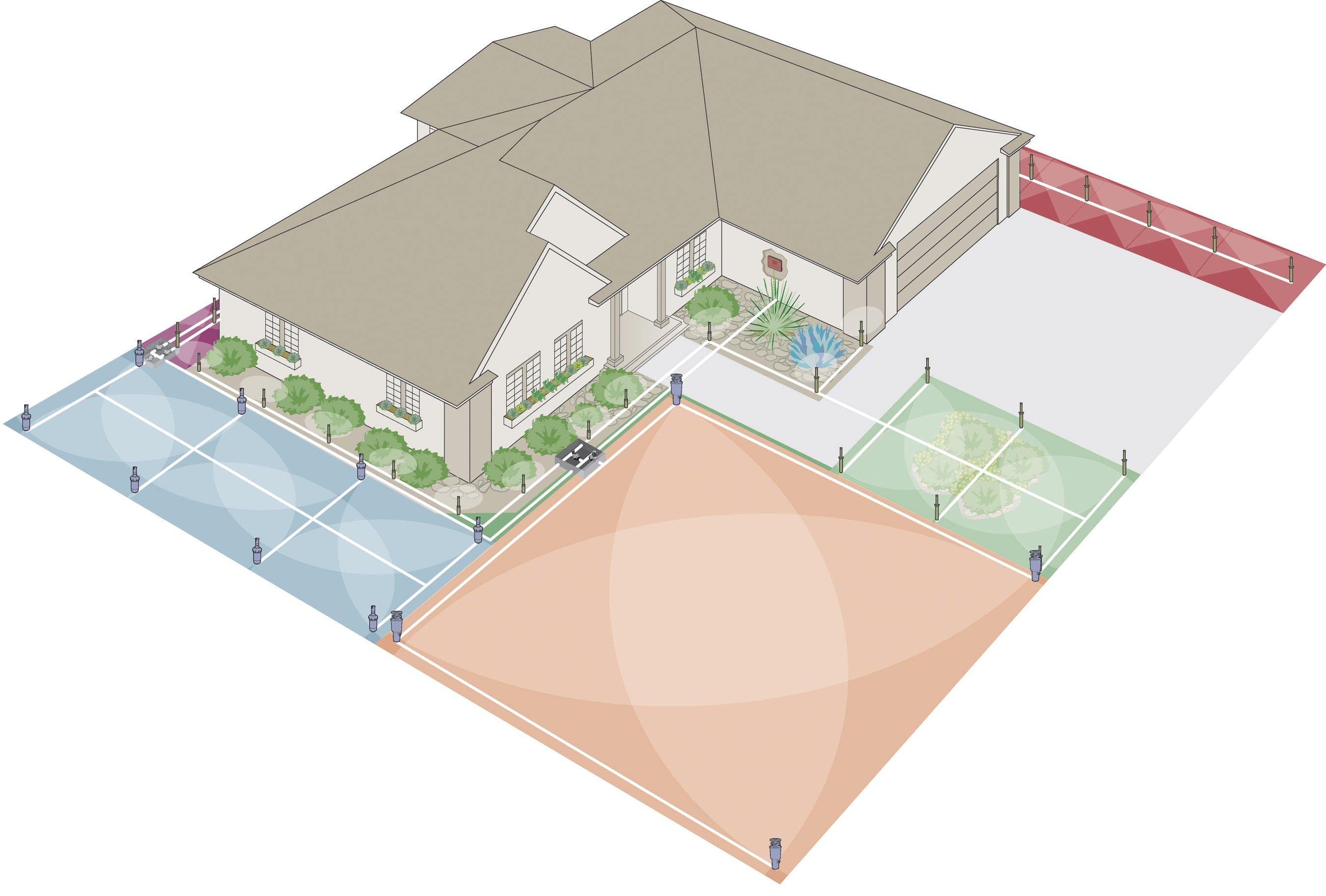 Follow a few simple steps to
receive a free, tailored plan.
Worksheet

Gather your water utility details and fill out our design request worksheet.

Measure

Sketch out your property measurements.

Receive

Receive a detailed, computer-drawn plan with an itemized shopping list.
You May Need:
Water Pressure Gauge
Tape Measure
String
Pencil & Paper
Timer
Five Gallon Bucket
Determine your home's water pressure

Screw a pressure gauge onto an unregulated outside faucet. Make sure no water is running anywhere inside or outside your house. Turn on the faucet with the gauge attached. The gauge shows your water pressure in pounds per square inch (psi).
Record: Pounds per square inch (psi) on the worksheet.

Find your water meter size

The water meter size is usually stamped on the outside of the meter. If you can't find the size, just call the water utility company and ask for that information; standard sizes are 5/8", 3/4" or 1". If you are on a well, check your pump owner's manual to determine its pressure and flow capacity, or consult a well pump dealer/installer.

Record: Write the meter size on the worksheet.

Measure your service line diameter

Locate the pipe that runs from the water meter to your house. Wrap a piece of string around the pipe, mark it, then measure to determine its size.. Check your string length on the table below to find your service line size. For example, if your string measures 4" and you have galvanized pipe, your service line is 1".

Record ¾", 1" or 1 ¼" on the worksheet.

| | | | | | | |
| --- | --- | --- | --- | --- | --- | --- |
| Length of String | 2 ¾" | 3 ¼" | 3 ½" | 4" | 4 ⅜" | 5" |
| Size of Copper | ¾" | - | 1" | - | 1 ¼" | - |
| Size of Galvanized | - | ¾" | - | 1" | - | 1 ¼" |
| Size of Sch. 40 PVC | - | ¾" | - | 1" | - | 1 ¼" |

Calculate your home's water flow

Get a measurable container, like a 5 gallon bucket, make sure no other water is running in or outside the house, turn the faucet on all the way and time how long it takes to fill the container. Determine gallons per minute (GPM) with the following formula. Note: Please retest if less than 7 GPM. If the two results are different, please call us at 1-800-426-7782 to discuss.

Record: Gallons per minute (GPM) on the worksheet

Gallons

(contaiter size)

÷

Time

(seconds)

×

60

=

GPM

(Gallons per minute)

example

| | | | | | | |
| --- | --- | --- | --- | --- | --- | --- |
| 5 | ÷ | 17.5 | × | 60 | = | 17.14 |
| galons | | Seconds | | | | GPM(Gallons per minute) |

Sketch your yard

Divide your lot into sections such as front lawn, side lawn, flower beds, slopes, etc., and label the areas you want watered. Be sure to include the house, driveway and sidewalks in proper scale. Also, if you have special watering preferences, such as bubblers in planting beds or a drip irrigation zone, note that on your drawing. Group similar types of plants such as shrubs and groundcovers together in the sections. If you have big differences in the amount of sun specific areas get, you may want to group those for watering efficiency and indicate "separate valve" on your drawing. Note: It may be helpful to use scratch paper first, then transfer your final drawing to the enclosed graph paper. Use bold, black lines only with no shading.

Sent it in! We'll take it from here

Mail or fax the completed worksheet and your drawing to:

Rain Bird Sprinkler Design Services




2498 Roll Dr., Suite 925




San Diego, CA 92154




Fax: 1-800-862-4927
Choose how you would like to
receive your design
Standard
Email It
Your system design will be delivered to you via email in Adobe® Acrobat (PDF) format within 10 business days.
Sample Design Service Plan (PDF: 1.1 MB)
Upgrade
Have It Shipped
Receive your printed system design and installation guide shipped within 5-7 business days.
*Additional Fee Applies
Upgrade
Rapid Response
Your printed system design, installation guide and installation DVD will be shipped to you within 2 business days.
*Additional Fee Applies
Important Information
The Rain Bird Sprinkler Design Service is for homeowners only and only for their place of residence. Please do not request designs for commercial or institutional property.
These design requests will be rejected and not processed or returned. Rain Bird offers this design service as a guideline. No guarantee of accuracy of design, system installation, or operation of system is implied.
The computerized plan you receive will only be as accurate as your drawing. Be sure to scale your drawing using one of the following ratios: 1"=10' or 1"=20' or 1"=30'. Maximum yard size for a Rain Bird computerized design is 240' x 300'.